The Schram Academy, Maduravoyal

Address: One Schram Avenue , Maduravoyal, Chennai - 600095
Locality: Maduravoyal (Find more Maduravoyal schools)
Phone: 044-65687463 044-65324861
Overview
The Schram Academy (TSA) is an independent, coeducational school enrolling Indian and international day students in through grades K-12.

Founded in June 2000, TSA currently caters to the educational needs of more than 1200 students with about 70 members of faculty and staff operating at 2 campuses:

The Park Road (Anna Nagar) campus caters exclusively to kindergarten children (Preschool, Junior and Senior KG) and the Maduravoyal campus admits students from Preschool through Grade 12.
Details
Play Group to XII grade
CBSE Board
English Medium
Co-ed School
Year Established: 2000
Gallery
Please click on the photo to see a larger version.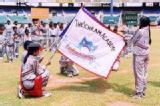 Reviews:
Find Home Tutors on UrbanPro
Find Qualified Home Tutors on UrbanPro for School Tuitions in all subjects
FIND NOW