Tatva Pre School, Velacheri
Address: #61 8th Main Road, Vijaya Nagar , Velachery, Chennai - 600042
Locality: Velacheri (Find more Velacheri schools)
Phone: +91-44-42022153
Overview
TATVA Pre-School is a venture started by IIT-IIM Alumni with many years of experience in the field of education. Education has the power to transform lives - a power that has no parallel. Every child has within, the potential to be someone in life; to achieve; to excel. It is education that transforms this potential into reality and enables today's children to be tomorrow's happy and productive adults. Having experienced this transformation in our own lives, we at TATVA have now dedicated ourselves to creating an environment that makes it possible for every child to grow into the adult that he/she was meant by nature to be. Our goal is, in very simple terms, to ceaselessly strive for excellence in education.
Details
Play Group to UKG grade
English Medium
Day School
Co-ed School
Extra-curricular Activities:
* Language
* Math
* Logic
* Practical Life Skills
Additional Details:
* Indoor Play Area
* Outdoor Sandpit.
Gallery
Please click on the photo to see a larger version.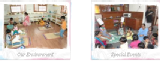 Reviews:
Find Home Tutors on UrbanPro
Find Qualified Home Tutors on UrbanPro for School Tuitions in all subjects
FIND NOW