Rose Manor Garden School, Santacruz West

Address: Central Avenue,Rose Manor , Santa Cruz West, Mumbai - 400054
Locality: Santacruz West (Find more Santacruz West schools)
Phone: +91-22-26461454, 022-26055525
Medium:
State Board
English Medium
Overview
Rose Manor Garden School has grown to what it is today because we have never forgetten her noble ideals of fostering strong values, mutual understanding, respect for our culture and high personal endeavour. Our motto is inspired by her wonderful life; to serve whole heart, and brighten the way for others.
Details
State Board Board
English Medium
Co-ed School
School timings: 7:05 am - 12:40 pm
Year Established: 1956
Extra-curricular Activities:
Yoga, Karate
Infrastructure:
Computer Lab
Gallery
Please click on the photo to see a larger version.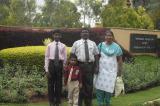 Reviews:
Find Home Tutors on UrbanPro
Find Qualified Home Tutors on UrbanPro for School Tuitions in all subjects
FIND NOW