Primrose Play School, Kilpauk
Address: #2 Waddells Road , Kilpauk, Chennai - 600010
Locality: Kilpauk (Find more Kilpauk schools)
Landmark: Near Bain's School
Phone: +91-44-26412865, +91-44-26611765
Overview
Primrose Play School is a haven for tiny tots. Primrose Play School is located in the heart of the city and in a prime and quiet locality. The school is spacious, surrounded by gardens and trees providing well shaded areas for the children to play outdoors.
The school has large well ventilated and hygienic and clean hall and class rooms. It also has a well-equipped playground and beautifully landscaped compound which helps grooming the toddlers into confident self-reliant individuals.
Details
Play Group to UKG grade
English Medium
Day School
Co-ed School
School days: Monday to Friday
School timings: 9.00 am – 1.00 pm 4.00 pm – 6.00 pm
Year Established: 1995
Extra-curricular Activities:
* Group interactions
* Games indoor and outdoor
* Speech
* Music
* Art & Craft
Gallery
Please click on the photo to see a larger version.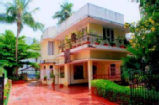 Reviews:
Find Home Tutors on UrbanPro
Find Qualified Home Tutors on UrbanPro for School Tuitions in all subjects
FIND NOW