Oakridge International School, Banjara Hills
Address: Khajaguda Village, Nanakramguda Road, Madhapur Banjara Hills, Hyderabad - 500034
Locality: Banjara Hills (Find more Banjara Hills schools)
Medium:
Anglo Indian Schools
Overview
The role of a pioneer in any field of knowledge is to lead the way and change the conventional wisdom for the greater good. Oakridge International School is a pioneer in introducing new generation education in India. At present, more than 2500 students are on rolls, from the Nursery to Class XII. We have limited residential facilities for boys and girls. The medium of instruction at Oakridge International is English. Oakridge International enjoys the distinction of being the largest international school in India. We are also the first IB world school in Andhra Pradesh, running successfully for nearly a decade now. We are a complete international school with facilities to pursue any academic stream - Central Board of Secondary Education (CBSE), New Delhi, or UK-based University of Cambridge International Examinations (CIE) or the Switzerland-based International Baccalaureate Organisation (IBO) first to run its Primary Years Programme (PYP) in 2003..(Authorised in October 2004)
Details
Anglo Indian Schools Board
Co-ed School
Gallery
Please click on the photo to see a larger version.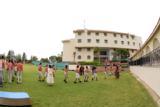 Reviews:
Find Home Tutors on UrbanPro
Find Qualified Home Tutors on UrbanPro for School Tuitions in all subjects
FIND NOW