Natkhat, Najafgarh
Address: #RZ-27 Prem Nagar , Najafgarh, Delhi - 110043
Locality: Najafgarh (Find more Najafgarh schools)
Landmark: Behind HDFC Bank
Phone: +91-9250000231
Overview
To create the future leaders, Natkhat ensures your child's all round development and new opportunities to learn. Natkhat not only believes in providing an enriching and stimulating experience to children but also celebrate their each and every moment shared with us....

The Educational experience at NATKHAT is on par with the highest international standard that help our kids to cope up with the competitive and advanced world of today.
Details
Play Group to UKG grade
CBSE Board
English Medium
Day School
Co-ed School
School provides transportation
Year Established: 2007
Extra-curricular Activities:
* Art
* Craft
*Abacus
*Commercial Art
*Karate
Infrastructure:
*Sand pit area
Additional Details:
* Indoor games
* Puzzles
* Quiz
* Carrom
Admission Details:
COURSES:
1. PLAY GROUP/TODDLER (AGE 15+ MONTHS)
2. PLAY GROUP (AGE 20+ MONTHS)
3. PRE NURSERY (AGE 24+* MONTHS)
4. NURSERY(AGE 36+* MONTHS)
5. KG (AGE 48+* MONTHS)
6. DAY CARE (15+ MONTHS TO 6 YEARS)
Gallery
Please click on the photo to see a larger version.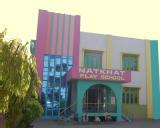 Reviews:
Find Home Tutors on UrbanPro
Find Qualified Home Tutors on UrbanPro for School Tuitions in all subjects
FIND NOW