Loreto House School, Midleton Row
Address: #7, Middleton Row, Kolkata - 700071
Locality: Midleton Row (Find more Midleton Row schools)
Phone: +91-33-22297054 033-22293564
Overview
Loreto House School in Kolkata came into being when in 1841 a property was donated to the Loreto Sisters and they established this school in 1942 on that property. The school is administered by the Loreto House educational society and has been recognized by the West Bengal Directorate of School education.

Loreto House School is a school only for girls and the school has its affiliation with the ICSE board and is following the ICSE curriculum since 1975. It got affiliated with the ISC board to conduct the senior secondary classes in 2005. The school is open to admission from Kindergarten to Class XI classes.

Details
Nursery to XI grade
ICSE Board
English Medium
Day School
Girls School
Year Established: 1942
Extra-curricular Activities:
* Sports
* Games
* Drama
* Elocution
* Dance
* Music
* Flower decoration
* Art and Craft
* Quiz Competitions
* Debates
Admission Details:
The admission procedure is based on the interviews with parents and children.

The process of admission starts in the month of September and the students can apply for admissions by filling in the application from provided by the Loreto House School.

Gallery
Please click on the photo to see a larger version.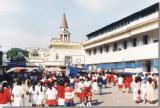 Reviews:





- by

Moumita Das

on Jul 10, 2013





- by

Moonmoon Sengupta

on Jan 07, 2014





- by

Mome Chakraborty

on Feb 03, 2014





- by

Mome Chakraborty

on Feb 03, 2014





- by

vandana dokania

on Mar 03, 2014





- by

SK Agarwal

on Apr 09, 2014





- by

Anushree

on Jun 25, 2014





- by

Sibendu

on Aug 03, 2014





- by

Partha Pratim

on Sep 02, 2014





- by

Sana

on Jan 16, 2015





- by

Arundhati

on Apr 03, 2016





- by

Dd

on Mar 27, 2019
Find Home Tutors on UrbanPro
Find Qualified Home Tutors on UrbanPro for School Tuitions in all subjects
FIND NOW