Little Heart Montessori, K K Nagar
Address: #944 11th Sector, 69th Street , K.K. Nagar, Chennai - 600078
Locality: K K Nagar (Find more K K Nagar schools)
Landmark: Near Pondicherry Guest House
Phone: +91-44-32545913 +91-9841398636, +91-9884307914
Overview
Our play school was established in 2000.we scarifies our soul mind and body for the future of our school kids. We prepare them for understanding the world around them. .These would include expression and communication. Safe and satisfying builds the foundation for learning. We help the child to learn to pay attention to stick to a job, to be able to concentrate .
Details
Play Group to UKG grade
English Medium
Day School
Co-ed School
Extra-curricular Activities:
* Learning Through Play
* Individual Teaching
* Habit of Checking many Sources
* Education As preparation for child
* Sense Training
* Activities relating ideas
Additional Details:
I am Dr. Elango my daughter name is Sneha she is 2 ½. As a doctor. I couldn't control my daughter behavior. She is very adamant. She was very disobedient . I am very much worried about her attitude. After joining her in little hearts play school. I can see some development in her attitude. She is totally obedient and now a days no adamant. She attend the interview she has selected for PRE-KG in P.S.B.B. I am very much happy and satisfied for the teachers concerning on my child.
Gallery
Please click on the photo to see a larger version.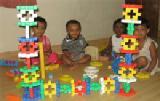 Reviews:
Find Home Tutors on UrbanPro
Find Qualified Home Tutors on UrbanPro for School Tuitions in all subjects
FIND NOW