Indus Early Learning Centre-Koramangala, Koramangala
Address: No. 537/A, 8th Main , 4th Block, Koramangala, Bangalore - 560034, Bangalore - 560034
Locality: Koramangala (Find more Koramangala schools)
Phone: +91-80-25535666
Overview
Welcome to Indus Early Learning Centre, started in January 2015, at Koramangala, Bangalore by the Indus Trust. The school caters to pre-primary education for children below the age of 6 years.
Details
Play Group to UKG grade
IB,IGCSE Board
English Medium
Co-ed School
Year Established: 2015
Admission Details:
s Early Learning Centre, Koramangala, believes in creating leaders of tomorrow by preparing children for an unforeseen future.

While most students join the school at the beginning of every academic year, we understand that some may not be able to do so. Based on the availability of seats, we are happy to admit students throughout the year.
Gallery
Please click on the photo to see a larger version.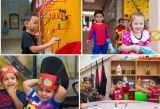 Reviews:
Find Home Tutors on UrbanPro
Find Qualified Home Tutors on UrbanPro for School Tuitions in all subjects
FIND NOW