Hitech Modern Residential High School,
Address: Athvelli Village, Raghavendra Nagar, R.R. District Petbasheerabad, Hyderabad - 501401
Phone: 9848438877, 9848871243
Overview
It is with great pleasure I address you, the shapers of the future generation, Hi-tech Modern High School and Residential Schools were established with the aim to impart quality education to the students aspiring to carve a bright future.

Hi-tech Modern High School's objective is to provide to its students the best possible resources to develop into the kind of human beings that the world needs today and would need tomorrow. Towards the accomplishment of this objective, we never compromise in regard to the best faculty, the best possible infrastructure, Labs and Library which enable the students to advance further into the ever-expanding regions of knowledge.

I always feel proud of the services that we have been rendering, particularly when the parent community walks upto us and conveys the fulfillment of their own and their children's academic ambitions. We have been implementing innovative methods of imparting wide ranging education to our students of all aspects. Our comprehensive range and state of infrastructure, that is constantly upgraded as and when required, speaks for itself.

I wish all our students a phenomenal success in his/her pursuit of academic excellence. May all your aspirations and ambitions be fulfilled.
Details
Gallery
Please click on the photo to see a larger version.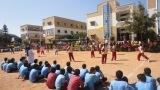 Reviews:
Find Home Tutors on UrbanPro
Find Qualified Home Tutors on UrbanPro for School Tuitions in all subjects
FIND NOW