Early Birds, Colaba
Address: Sunita Building, Ground Floor, Colaba , Colaba, Mumbai - 400005
Locality: Colaba (Find more Colaba schools)
Landmark: Opposite Colaba Post Office
Phone: +91-22-22150296, +91-22-22151717 +91-9820350123
Overview
"Early Birds", the play school, pre-school and activity center run by Mrs. Genevieve Advani, BA Hons. in Sociology and Psychology believes in personalized education where learning is fun through the Montessori and Play-way method.

Your children will jump right into our toddler classroom life because they will spend a lot of time doing what all children love-PLAYING, SOCIALISING, EXPERIMENTING & DISCOVERING.
Details
Play Group to UKG grade
English Medium
Day School
Co-ed School
Extra-curricular Activities:
* Music
* Art

Additional Details:
We believe your child deserves the best of the best.

The Early Bird centre will help your child's development, from their first moments to their first day at school.

The activities conducted are specifically designed for a particular aspect of a child's development.

We balance this educational value with the fun factor keeping everybody happy; that's the magic combination we believe in.

We actively encourage the children to play at our centre, to motivate their skills by using products which are both educational and fun.
Gallery
Please click on the photo to see a larger version.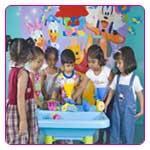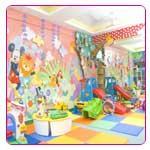 Reviews:
Find Home Tutors on UrbanPro
Find Qualified Home Tutors on UrbanPro for School Tuitions in all subjects
FIND NOW