Bright Sparks Montessori, Benson Town

Address: #36/1 Miller Road , Benson Town, Bangalore - 560046
Locality: Benson Town (Find more Benson Town schools)
Landmark: Near Temptation Restaurant
Phone: +91-80-23544179, +91-80-41277074
Overview
Bright Sparks Montessori School was created to give young learners a competitive advantage early in life. It was also set up to merge new discoveries in the teaching learning domain with tried and tested Montessori approaches. The resultant combination is a win-win program where students get a chance to be a part of an accelerated learning experience. This methodology has made learning a pleasure and created in children a desire to seek knowledge.

We have completed 8 years of successfully preparing tiny tots to go out in the world and excel in all that they do. The results are there: our students gain easy admission into the institution of their choice. They do well in academics and co curricular activities; they are confident and have good inter personal skills.


Details
Play Group to UKG grade
English Medium
Day School
Co-ed School
Additional Details:
Our Goal is simple: We prepare children for a lifetime of creative thinking and learning. We are committed to ensuring that your child receives a broad academic education in the context of a carefully planned stimulating environment.
Gallery
Please click on the photo to see a larger version.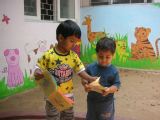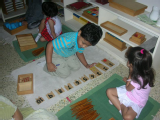 Reviews:
Find Home Tutors on UrbanPro
Find Qualified Home Tutors on UrbanPro for School Tuitions in all subjects
FIND NOW