A network is a group of computer systems which are connected to each other using multiple hardware and software. A network could be as small as two computers and a printer in a room or as big as connecting multiple international offices. The configuration, optimization, security and maintenance of a business's computer network are done by a
Network Administrator
. He handles tasks like new software installations, compatibility issues and manages both the physical and virtual aspects of an organization s network.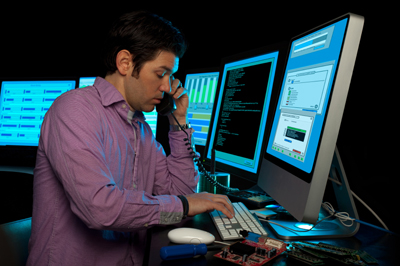 Many big organizations prefer hiring an in-house network administrator to handle hardware and software installations, diagnostics, privileges within the network. Smaller organizations might outsource their network administration tasks.
Tasks and Responsibilities of a Network Administrator
To configure and maintain the organization s computer network including both software and hardware like routers and switches.
Setting up user accounts, assigning privileges and passwords for the organization s employees.
To manage the security of network by configuring firewall, anti-virus software and intrusion detection systems. To manage emails and configure anti-spam protection
To monitor the usage of network by the organization s employees
Examine the network for any performing issues, such as a system crash, and then troubleshoot and document the identified issues.
To manage and optimize the use of servers while backing up all the important data.
To coordinate with employees in other departments and teams.
Planning future IT solutions.
Checking and ensuring that all equipment follows the industry standards.
Skills Required to be a Network Administrator
Since there is quite a wide range of responsibilities and tasks for this role, multiple skills are needed to work as a Network Administrator.
1. Networking Skills - A person must have the complete knowledge of the networking principlesfor configuring and maintaining the organization s network. Here are some important ones:
Proper understanding all types of hardware including routers, switches, wires and other essential equipment.
Knowledge of IP addressing and some common networking protocols like IPv4 and IPv6.
Knowledge of the common operating systems such as Windows (XP, Vista, and Windows 7), Linux and MAC OS.
Knowledge of various Networking Services such as directories, files, distributed applications, email, HTTP, FTP, DNS and some other common services.
Knowledge of security maintenance using encryption, firewalls, IDS, anti-virus, anti-spam etc.
Knowledge of ISP/Communication Providers and Virtual Private Networks (VPNs).
2. Technical Skills --
In addition to the networking basic, a person also needs technical skills to install and update the networking services.
Knowledge of troubleshooting skills
Knowledge of databases and database servers like MySql and Sql Server.
Knowledge of windows servers
In some cases, basic knowledge of some scripting languages like Python, Pearl and PHP.
Knowledge of project management and documentation skills.
3. Certifications --
Networking and technical skills are undoubtedly valuable but a certification can give you preference over the existing competition. Some of the major
certifications
are:
Cisco Certified Network Admin (CCNA)
Cisco Certified Network Professional (CCNP)
Cisco Certified Internetwork Expert (CCIE)
Microsoft Certified Systems Engineer (MCSE)
Microsoft Certified Systems Administrator (MCSA)
CompTIA A+
CompTIA Network+
CompTIA Security+
Solaris 11 Unix Certification
Good communication, interpersonal and leadership skills are some other factors to be considered.
Future Scope and Job Perspectives
With rise in global economy, companies are implementing advanced systems for operations and data storage. Demand for System Administrators is expected to increase due to rising demand for information security. Companies will look forward to hire Network Administrators for optimizing their systems to lower costs and increase their productivity. Some of the related job positions are:
Network Engineer
Network Programmer/Analyst
Network Technician
Network/Information Systems Manager
Find Network Administrator Courses and Trainers Today!