JS Academy is a one-stop destination for students from 8th to 12th grade. This Hyderabad based institute was established in 2010 to cater to a large number of students who study in ISC, ICSE, IB, IGCSE and CBSE board. It also offer top-quality coaching for competitive exams such as IIT JEE, SAT, PMT, AIPMT, AIIMS and NEET-PG. It provides both crash courses and regular classes to meet students' requirements and trains students as per their grasping abilities. JS Academy is highly disciplined and committed institute, often known for its student-centric concept building teaching strategy.
Our heartiest congratulations to JS Academy!
Here is an excerpt from the interview with JS Academy and team.
 Q1. Tell us something about JS Academy. When did it start?
JS Academy started its journey way back in the year 2010 with just two students, and today it has catapulted to a massive quality strength of 200+ together with all three branches. As we focus on many factors when we take admission, thus numbers don't matter for us. Our tagline already says it's Concept to Core Learning.
Q2. What are the major coaching categories offered by JS Academy?
The major categories are IIT JEE, NEET-UG, BITSAT, SAT, KVPY, OLYMPIAD exams and tuition classes for 8th to 12th grade. We also give regular coaching for ISC, ICSE, IB, IGCSE, CBSE board.
Q3.What is the USP of your Institute and how satisfied are your students?
Our main USP is to follow student-centric concept building teaching strategy. Our mentoring after the classes have made us different in the coaching industry. We customise every student preparation by following their grasping levels. Our most unique student programming is in scheduling and backing up students progress.
Q4. How does UrbanPro.com help your Institute stand out from competitors and generate more revenue?
UrbanPro is doing a fantastic job for us by alerting us with those who view our profile, connecting us with the right student community and above the visibility, we need in today's online market.
Q5. What do you think differentiates UrbanPro.com from other platforms?
Definitely UrbanPro out numbers with other platforms as it is always smart in exploring new innovative marketing strategies and helps institute profiles like us.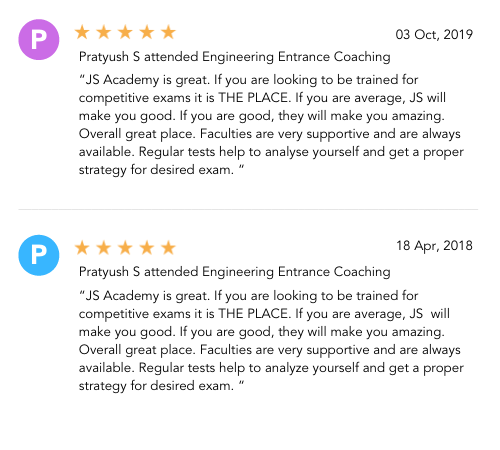 About the institute: JS Academy is a coaching institute located in Vengal Rao Nagar, Hyderabad. The institute provides online classes, group classes for Maths, Physics, Chemistry, Biology, and English. It recommends subject experts for home tuitions and on-demand sessions on call. Moreover, it provides with Advanced Placement Syllabus for 9th to 12th-grade students of American Curriculum.