Vael's Billabong High International School, Neelankarai

Address: 480, Third Main Road (South) Sri Kapaleeswarar Nagar East Coast Road, , Neelankarai, Chennai - 600041
Locality: Neelankarai (Find more Neelankarai schools)
Phone: 044–24492692 044–24492292
Overview
Details
ICSE Board
English Medium
Infrastructure:
World-class infrastructure: A fully air-conditioned ambience to keep pace with the demands of a digital world, the school is networked with the latest equipment. For parent, teacher and child to be in touch at the press of a button. Science Lab: State-of art science lab for the children.
Art Lab: To stimulate the imaginative skills of the children we have fully equipped art lab. Library and Resource Center: Treasure of knoweldge sourced through an air-conditioned library which provides,an e-library with 24 hour Internet connectivity and a rich collection of books, magazines, journals, newspapers for reference and learning. Indoor Auditorium: With a seating capacity of 500 people and an open air auditorium which can accommodate arround 1000 people specially designed for excellent acoustics.
Gallery
Please click on the photo to see a larger version.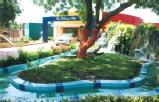 Reviews:
Find Home Tutors on UrbanPro
Find Qualified Home Tutors on UrbanPro for School Tuitions in all subjects
FIND NOW