Oi Playschool - Banjara Hills,
Address: Saher, 8-2-686/B/1/7/A, , Road No. 12, Banjara Hills, , , Hyderabad - 500034
Landmark: Lane next to mor chemist , Near Jagannath Temple
Phone: 9246207788 04064567788
Overview
Oi Play School is an educational initiative of People Combine, a group that has pioneered & redefined the way education has been perceived in India. We are the creators of Oakridge International School.

Vision:
Committed to create global leaders in partnership with parents through our early childhood program.

Philosphy:
To provide a platform for global learning through our pedagogy balanced with rich traditional values.
To enable a child to explore the world outside their homes in safe and stimulating environment.
To nurture the child socially, emotionally, physically and intellectually, to be a lifelong learner.
To motivate parents to be an effective partner in encouraging independence, fostering creativity, instilling confidence & developing values of love and trust.

Our Curriculum : SPARKZ

Our Curriculum USP's:
Curriculum is child-centred or child-initiated.
The teachers use the interests and enthusiasm of children to involve them to learn by doing through experimentation, exploration, and discovery while building self-control and a positive self-image.
It builds tolerance and respect for each other's creation.
It is individualized and recognizes the unique qualities, ways of thinking, and level of understanding in each child.
Curricular areas are taught within a problem-solving context.
Learning is made relevant, exciting, and useful.
Curriculum consists of celebration of national and international days to bring global awareness

At Oi, we have successfully modified the mundane classroom culture into 'Learning Spaces' which aids in learning through a more advanced & innovative approach.

Details:
Play Group to UKG grade
Day School
School provides transportation
Details
Play Group to UKG grade
Sparkz Board
English Medium
Day School
School provides transportation
Student/Teacher ratio: 1:8
Gallery
Please click on the photo to see a larger version.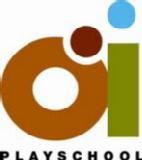 Reviews:
Find Home Tutors on UrbanPro
Find Qualified Home Tutors on UrbanPro for School Tuitions in all subjects
FIND NOW