Foot Steps, Kottivakkam
Address: #41 Jagannathan Street, Lakshmana Nagar , Kottivakkam, Chennai - 600041
Locality: Kottivakkam (Find more Kottivakkam schools)
Phone: +91-44-24511314 +91-9840024887
Overview
Footsteps play school makes a trauma less transition from home life to school life for your little one.

A play school is a child's first independent step outside home. Your child has to adjust to a new set of people who double up as educators and substitute mothers, a new physical environment and a new routine. For almost 10 years now, Footsteps has made this transition smooth and effortless for many toddlers by providing a sense of security and trust at the same time bolstering their self confidence.

We help our students to evolve into well balanced individuals, mentally, socially and physically without loosing their innocence and sensitivity.
Details
Play Group to UKG grade
English Medium
Day School
Co-ed School
School timings: Timings : 9.30 am to 12.30 pm
Extra-curricular Activities:
* playing with water
Additional Details:
* puzzles
* alphabet slots
* games
* soft toys
* place mats
* snack time
Gallery
Please click on the photo to see a larger version.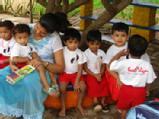 Reviews:
Find Home Tutors on UrbanPro
Find Qualified Home Tutors on UrbanPro for School Tuitions in all subjects
FIND NOW