Delhi Public School, Bharat Nagar
Address: Plot No. 44 & 42A, Bharat Nagar Nacharam, Hyderabad - 500076
Locality: Bharat Nagar (Find more Bharat Nagar schools)
Phone: 040-27156282
Medium:
CBSE SCHOOL
English Medium
Overview
The School

Inception

Delhi Public School started as an answer to the long felt needs of the bourgeoning population of the twin cities of Hyderabad and Secunderabad. The School under the aegis of the Delhi Public School Society at New Delhi, began its operations at Mahendra Hills in the year 2003. Within three years, the School migrated to its sprawling campus at Nacharam located in Hyderabad far away from the maddening crowd. With an impressive strength of students, teaching and administrative staff, Delhi Public School Secunderabad has already made its mark as one of the premier institutes.

Our Vision

To impart world class education that shall foster academic excellence. physical fitness. Psychological and spiritual health, social consciousness, self discipline and concern for the environment in each DPS student through our own systems and practices.

Facilitate and catalyze true learning for developing an equipoise individual with civic sense and social responsibility. We empower the young minds with discovery and realization of their dreams and goals. Design the course to positively think, act reflect and adapt responsibility.

Our Mission

Is to make our educational establishment an innovative center of learning where teachers collaborate with students in developing pedagogical applications. To adopt a holistic approach to the growth and development of the students learning and lay the foundation for continual pursuit of knowledge and skills, respect for learning and a desire to be a life long learner
Details
1 to XII grade
CBSE SCHOOL Board
English Medium
Day School
Co-ed School
School provides transportation
Year Established: 2003
Gallery
Please click on the photo to see a larger version.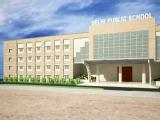 Reviews:
Find Home Tutors on UrbanPro
Find Qualified Home Tutors on UrbanPro for School Tuitions in all subjects
FIND NOW